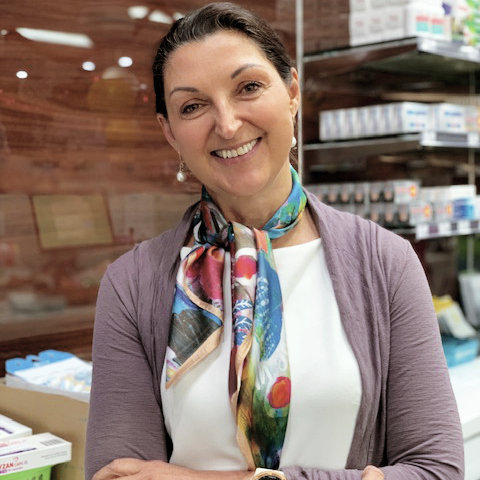 LINDA KEANE
Pharmacist/Founder of Nourish Health
Linda made the move down south with her young family in the year 2000, trying to escape the Y2K bug with a sea change. She has owned pharmacies in North Beach, Rockingham and Mandurah but took a break to concentrate bringing up her family in the best place to live, never once regretting the decision to leave the city.
Ten years after purchasing and working at Dunsborough Pharmacy, Linda opened Nourish, a pharmacy that more closely aligned to her belief of what a pharmacy should be and took the risk of making her dream real. She believes that 'medication is not the only answer' and that you can always do something more to improve your health and quality of life. She believes we should live a life of continuous learning and hopes that Nourish will provide trained and knowledgable professionals to help guide and advise you on your own personal health care journey. Linda believes that many complementary, alternative and lifestyle therapies can work alongside conventional therapies to make and keep us all well.
Linda has always had an interest in health and fitness, but over the last five years has ventured into the sport of triathlon with its three disciplines of swim, cycle and run. She is now a regular jetty swimmer and Ironman 70.3 competitor. Linda feels lucky that she has been able to surround herself with athletes who are very committed to their health, nutrition and wellbeing. They even motivated her to complete her first marathon in Paris in 2016.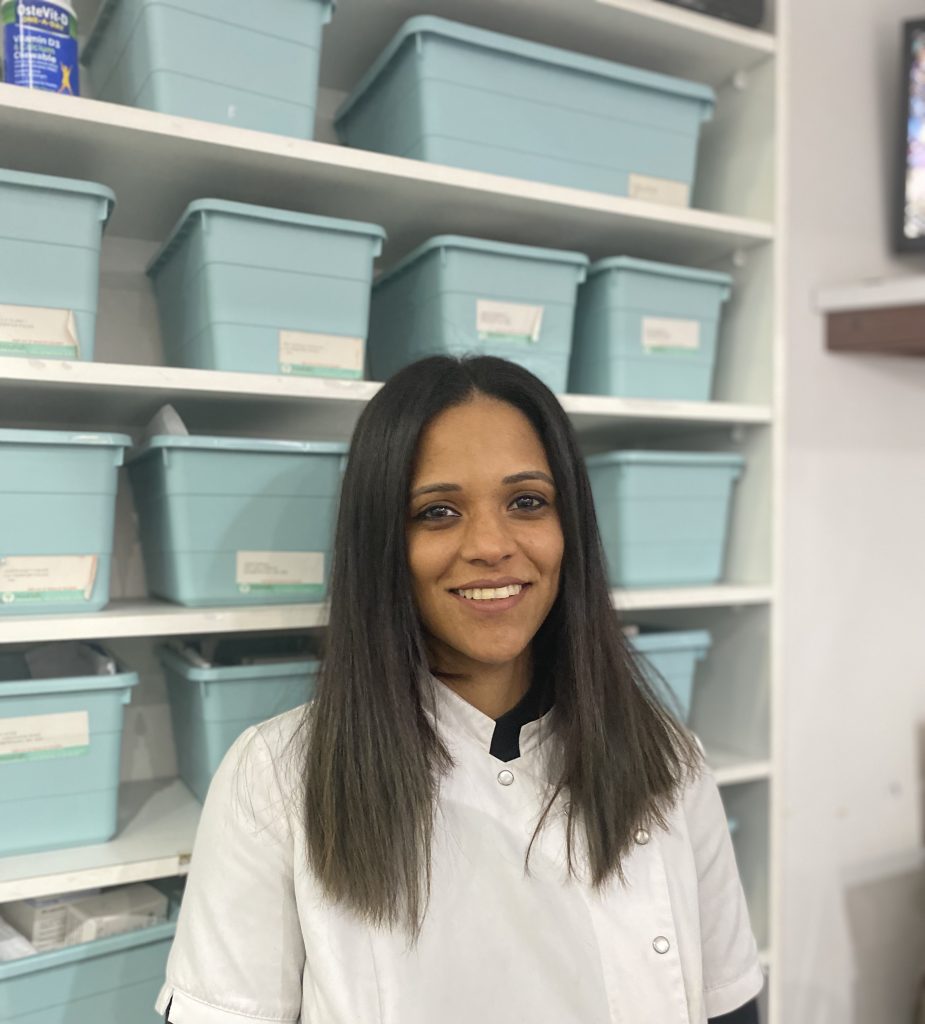 SHENI
Compounding Pharmacist
Sheni grew up in Malawi, often referred as the "Warm Heart of Africa" in southeastern Africa. She decided to complete her university studies in Perth, and has now lived here for 9 years and studied her Masters in Pharmacy at Curtin University.
Sheni was an intern at Dunsborough Pharmacy before graduating in 2021 and becoming the full time Pharmacist at Nourish Health. Currently, Sheni is undertaking further specialty in compounding training (where the magic happens), with one of the leading compounding laboratories Medisca in Sydney. She has also developed a special interest in Medicinal Cannabis and the benefits it can have on our health.
Sheni loves working at Nourish because of the comprehensive and integrated holistic approach towards medicine, and particularly loves learning more about natural supplements and ways food can impact health.
When Sheni isn't at work, she loves to get out in nature and explore Dunsborough's beautiful landscape and hanging out with friends. She is also an expert napper you will always find her soaking up the sunshine when it's out.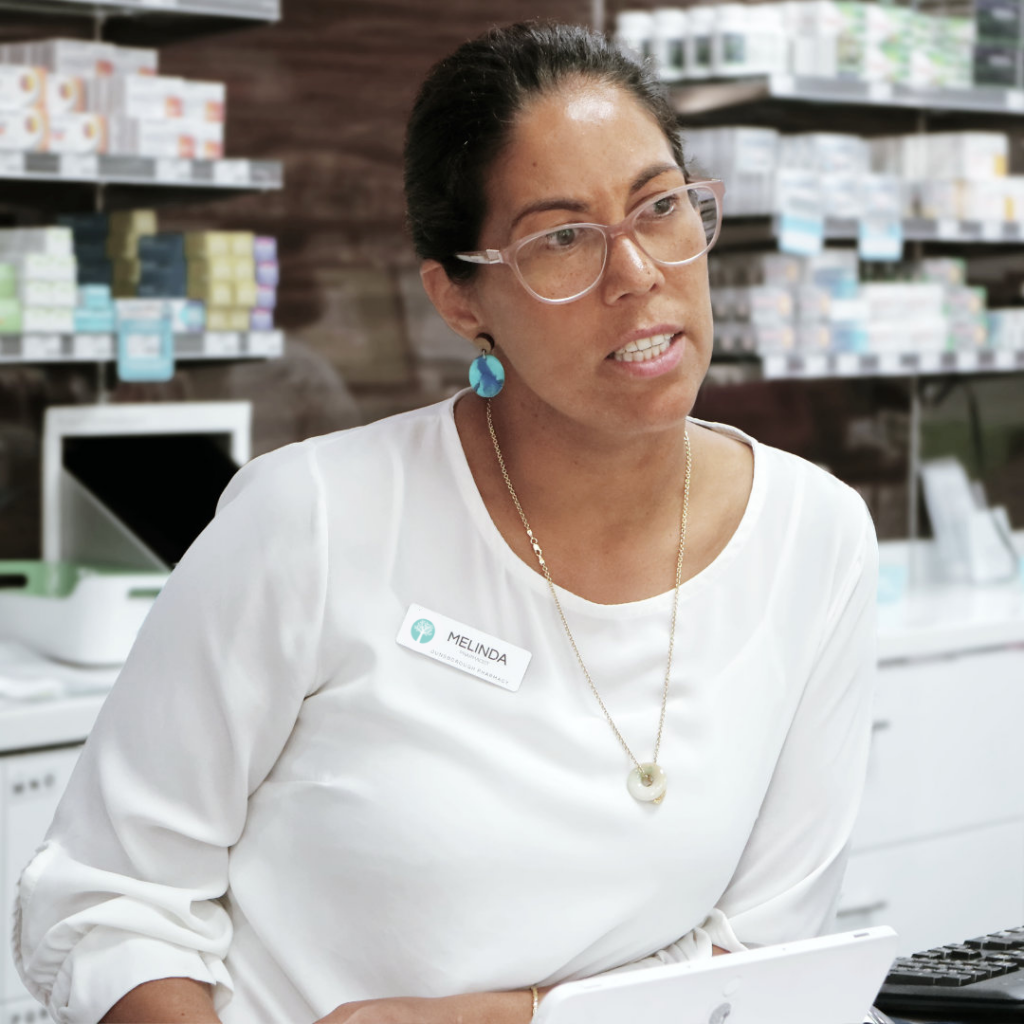 MELINDA
Pharmacist | Naturopath
Melinda is our part time Pharmacist and Naturopath. On completion of her Naturopathy Degree at Southern Cross University, Mel spent 5 years practising around Byron Bay, she then decided it was time to come home to her family on the West Coast.
Her passion for making a positive difference to people's health led her to studying Masters of Pharmacy at the University of Western Australia. She has been working in community pharmacy in the South West for the past 7 years.
Melinda's other passion is surfing. She has travelled the world chasing the waves and when she's not working she is getting salty somewhere. She has found her home here in Dunsborough with her two beautiful children and husband. Mel believes in a holistic approach to health and wellbeing is a great addition to our team.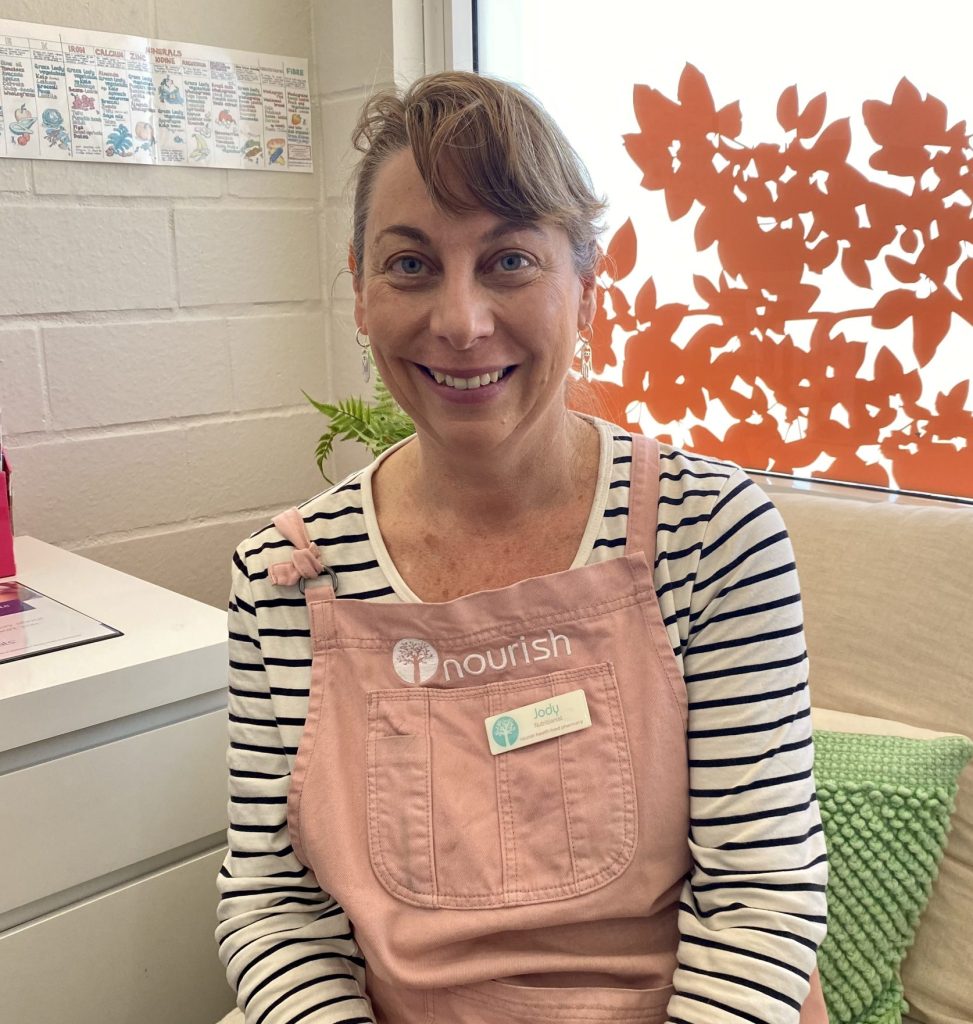 JODY
Clinical Nutritionist
Jody has been working at Nourish Health since 2019 as a Clinical Nutritionist. She has long had an interest in natural health, starting out in Aromatherapy and practising as a Remedial Massage Therapist. She believes once you start on the path of natural therapies, you never stop!
Jody has practiced in Byron Bay, and worked as a TAFE lecturer before settling in Dunsborough. As a Nutritionist, Jody loves to help people unravel the confusion around how to eat healthy, improve wellbeing and enjoy life! She has a particular interest in preconception care, and working with children and their parents to improve their eating habits, as many parents find this challenging.
When Jody isn't at work, she loves to take time out at one of the many beautiful beaches in the South West, depending on which way the wind in blowing of course.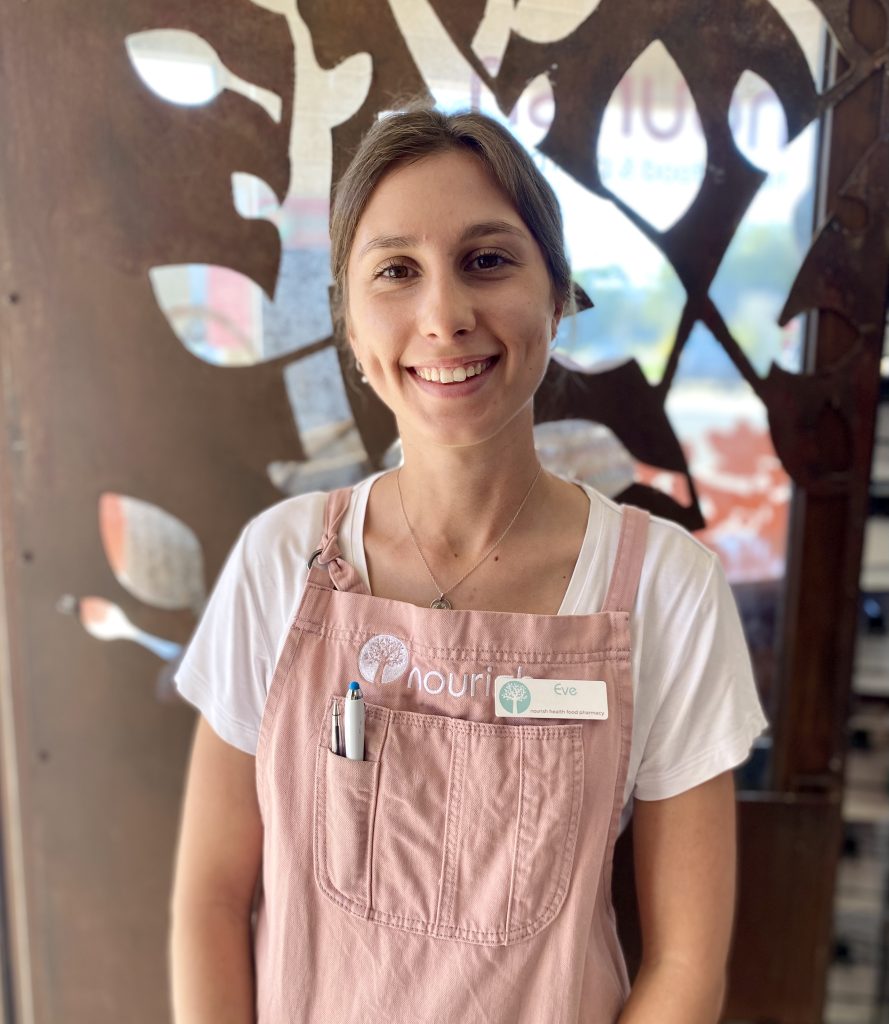 EVE
Nutritionist
Eve has been working at Nourish as a pharmacy assistant since 2018 while studying Nutrition and Health Promotion at University. At the end of 2020 she graduated with a Bachelor of Health Science in Nutrition and Health Promotion.
Eve has always had a interest in nutrition and learning how our food choices can influence health outcomes. She is particularly interested in the link between diet & mental health, creating healthy eating habits, and debunking the multitude of myths that exist in the field of nutrition! As a Nutritionist, Eve would describe herself as compassionate and understanding of other people's situations.
Eve's professional goal is to use both her majors (nutrition and health promotion) to educate the general population to understand healthy eating habits to make simple changes to enhance their health, and promote a healthy lifestyle.
Working in pharmacy as a Nutritionist requires a careful balance and blend of natural medicine with modern medicine. Eve believes there is definitely a place for pharmaceuticals with natural health, and often pharmacy and nutrition can go hand in hand very well.
To stay healthy both physically and mentally, Eve likes practices yoga and meditation regularly, and a daily walk in nature is a must for her wellbeing.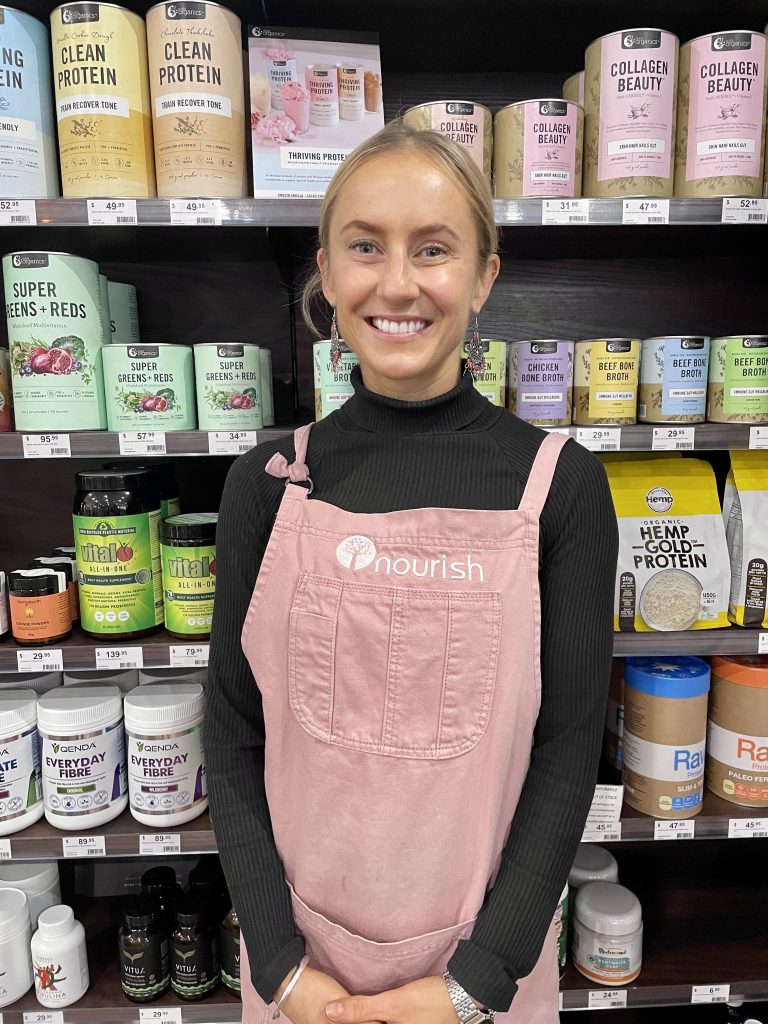 KOBIE
Stock Manager
Kobie has been working at Nourish since 2021, but has been a huge asset to the Nourish team. Kobie is a mum to two beautiful girls, as well as being a personal trainer, a yoga instructor and more recently she has stepped into a new role as Stock Manager at Nourish.
Her biggest passions in life are friends, family, health and wellness. Good nutrition plus daily movement and mindfulness are the three pillars she likes to live by. When Kobie isn't at work you'll find her at the gym, yoga studio, or enjoying the outdoors.
Kobie is a wealth of knowledge, and enjoys working at Nourish as she can continue to learn, grow and follow her passion in the constantly evolving field of health and wellness.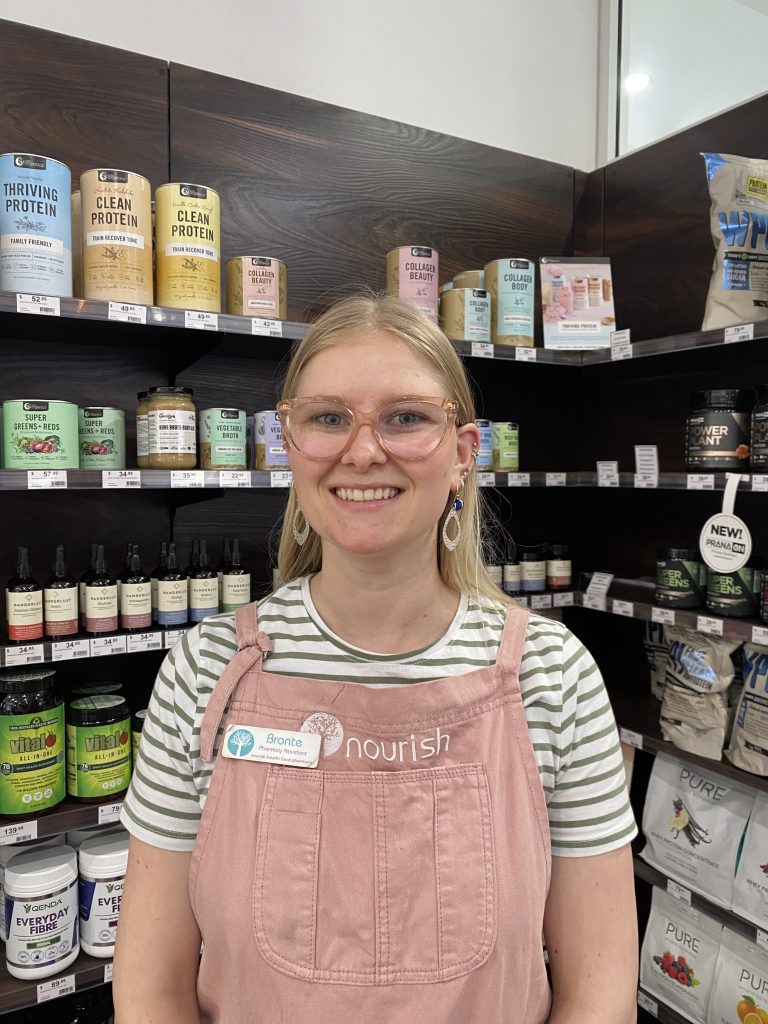 Bronte
Pharmacy Assistant
Bronte grew up in Dunsborough, and has been working at Nourish for around 4 years. She is our creative member of the team, and is always finding new projects to start, both in store and in her own time. Currently she is undertaking a silversmith jewellery course, and has a big interest in this area. She also loves making natural body care products, and cooking delicious plant based dishes!

Bronte is our smoothie bar girl and makes the best smoothies in town, in fact she has just developed a new smoothie menu for Nourish! Bronte's area of interest lies in natural health and holistic medicine. She loves to learn new things, and has gained a wealth of knowledge in both pharmacy and natural health over the years.